The Dreamers #63 - With Oscar From Young Henrys And Jessie From Thoughtful Co.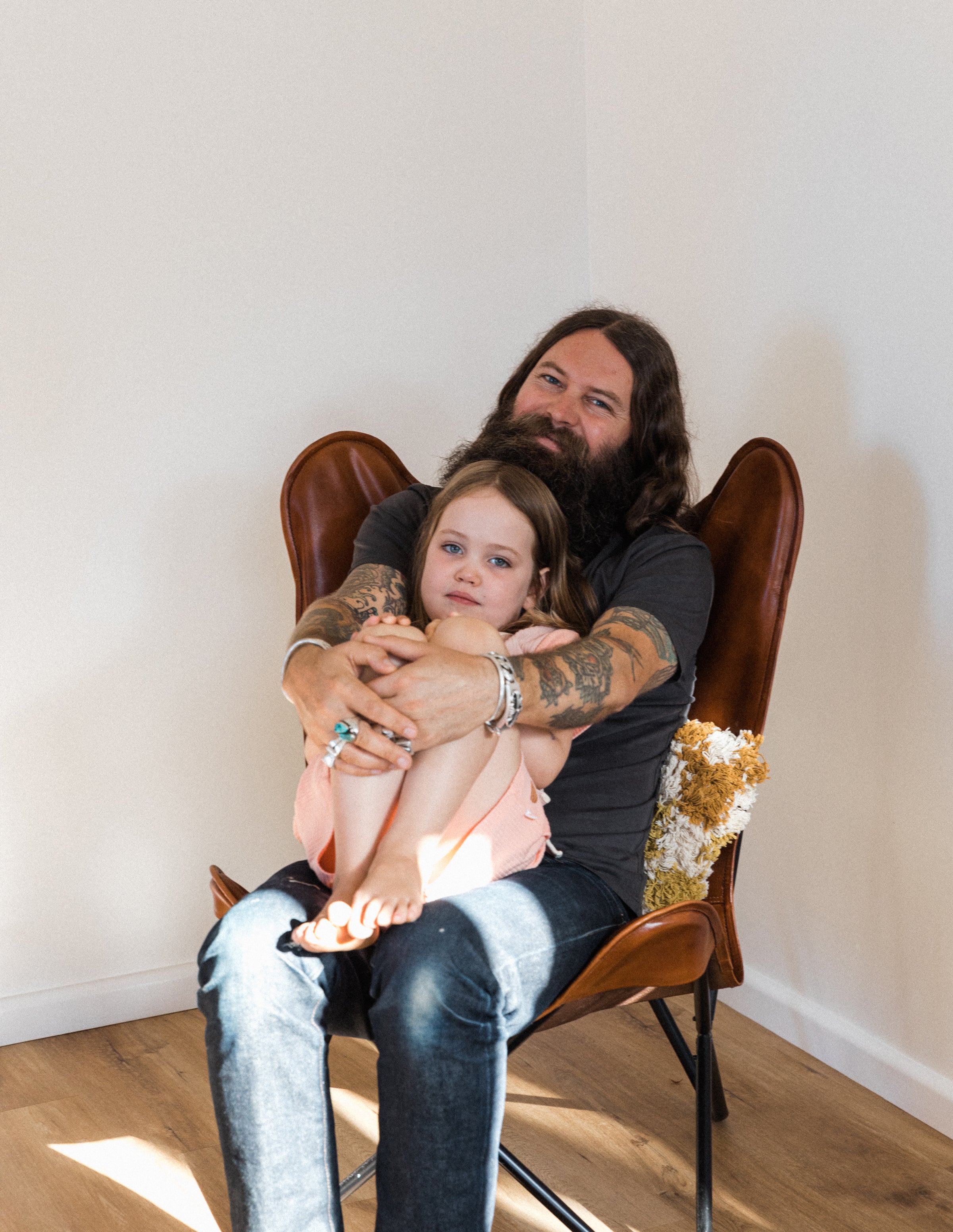 Welcome back to our Dreamers blog! We can't imagine a better way to kick things back off than by talking to the talented duo - Oscar and Jessie. This entrepreneurial couple is forging their own paths with Oscar behind the widely successful Young Henrys Brewery and live music venue in Newtown and Jessie, the owner of sustainable bedding company Thoughtful co. 
WELCOME TO THE DREAMERS. 

COME INSIDE THE HOMES OF EVERYDAY FAMILIES AND BUSINESS OWNERS DOING LIFE THEIR WAY. 
____________
Tell us about your family.
Jessie: Our little family of three consists of myself, our daughter Stella and my husband, Oscar. We recently moved from Annandale in Sydney to the beautiful South Coast. We are a very tight-knit little unit and have some amazing support around us. Our spare room is always full of visitors and extended family! 
Oscar: Jessie and I met when we were 25 crossing a road. It was a full love at first sight experience. The early years were footloose and fancy-free, travelling, dining, drinking and dancing the nights away as you do. Somewhere in our early 30s, we started getting that feeling, the sense that there might be another adventure we should embark upon together. Stella was born a little over four years later. What was a difficult and trying process resulted in the most incredible thing either of us have ever been a part of. 
Tell us about your life on the South Coast and where you love to visit as a family.
Oscar: We live in a beautiful wooden cottage on a hill in Thirroul. It affords us the beachside lifestyle, fresh air and serenity but also the connectedness of a like-minded and beautiful community. 
It gives me much-needed balance to the four days a week I spend in the Brewery in Newtown, another community I am really lucky to be a part of. Our favourite holiday destinations are varied, from Tasmania to Malua Bay, Bangalow and Noosa, as well as a friend's little house on an island in Greece. 
 Jessie: We always love visiting the North Coast where I grew up. Also, the buzz of the city draws us back for its food, nightlife and art, but only for a night or two. Then, we are very happy to return to the pace of the South Coast. 
Rad Dad Tee - Washed Black

AUD $55.00
Keep Growing Hemp Tee - Ladies
AUD $59.00
Jessie, your bedding company uses hemp (which we are big fans of) and looks beautiful. Tell us how Thoughtful Co was born.
Jessie: After Stella was born, I started looking into a career change. I was working as a producer/agent at a photographic agency and looking to move into the interior space somehow. Initially, I started looking into towelling and researching agricultural practices around production, and then through a collaboration with Young Henrys and a hemp clothing brand, I started to learn about its benefits. 
 This plant is so versatile and has so much to give back to the land - it literally has the ability to give back lost nutrients to depleted soils - so I immediately knew I wanted to work with this fibre. Also, the hemp and flax plants (what most people know as French linen) are practically identical, so using this textile in bedding was a natural progression.  
 Plus, it was time hemp had a rebrand for being just as luxurious and able to hold its own in the world of luxury interior spaces. And who doesn't love beautiful, breathable, thermoregulating and naturally antibacterial luxe bedding? This is how ThoughtfulCo was born. 
Can you share with us the benefits of using hemp in bedding products and why it's a more sustainable option? 
Jessie: Absolutely. Hemp is a highly renewable plant which grows at a rapid rate, generally 100-120 days and needs little to NO pesticides, herbicides or chemical fertiliser. It also doesn't require a lot of water to grow. 
The Hemp Sativa plant is one of the best crops for absorbing carbon dioxide from our atmosphere and is completely biodegradable and compostable. Its deep root system also detoxifies soil by removing harmful chemicals. It's a very impressive plant. 
Musk Splice Organic Rib Twinset

AUD $59.00
Checker Cotton Tufted Floor Rug
AUD $450.00
Checkers Shaggy Tufted Cushion

AUD $165.00
Coverlet: Upsy Daisy Butter & Leaf Green
AUD $389.00
Oscar, tell us a bit about what inspired you to start Young Henrys and how did you get into the industry? 
Oscar: The basic idea for Young Henrys was to create a beer company that spoke to our values as people, that reflected our tastes and the tastes of our friends. We wanted it to be fun, loud, progressive, open-minded and welcoming. 
We wanted the conversation of craft beer to become an inclusive narrative and wanted good beer served in places where culture happens. Going back 11 years, you couldn't always get good beer in places you'd expect to, like live music venues, art gallery openings, restaurants and even pubs. It feels really good to say that I think Young Henrys still operates to the same mantra as when we started. 
Young Henrys is very involved in live music - any favourite artists?
Oscar: We have always been very entwined in the live music space. Probably because both myself and Richard (the other co-founder) spent much of our misspent youths playing in bands, so it's always been something we have naturally felt drawn towards.
 We have had the pleasure of working with so many incredible artists in the last 11 years. Highlights for me are probably having The Dandy Warhols do a secret show in the brewery, putting on Small World Street Festival, partnering with large festivals like Download, Newtown Festival and Yours And Owls and making collaborative products with people like You Am I, Foo Fighters, DZ Deathrays and Nathaniel Rateliff and the Night Sweats.
How do you balance family life with juggling two businesses? 
Oscar: It is complicated, but we make it work. Both of us are pretty good at communicating when there is a priority (whether that be family or work), and the other always does what they can to support that priority.  
 Jessie: Ooof, that's not easy. Constant communication of schedules and always carving out the time no matter what's going on. And occasionally throwing all plans out the window to hang out together and do something fun. I probably shouldn't put that in writing, but there you have it. 
Any exciting plans for this year?
Jessie: Many exciting plans, always! But I'm too superstitious about revealing anything yet. Watch this space!
Oscar: This year feels like the time for growth in both a personal and a business sense. We've all weathered the storms of the last few years, and the horizon is looking pretty good from where we're standing. 
SHOP OUR RANGE OF HEMP PRODUCTS:
Early Riser Hemp Tee - Kids

AUD $49.00
Heaps Good Hemp Tee - Adults
AUD $59.00
Rad Kid Stripe Hemp Tee

AUD $49.00
Early Riser Hemp / Organic Cotton Playsuit
AUD $49.00