The Dreamers #68 - With Stefania Brunetti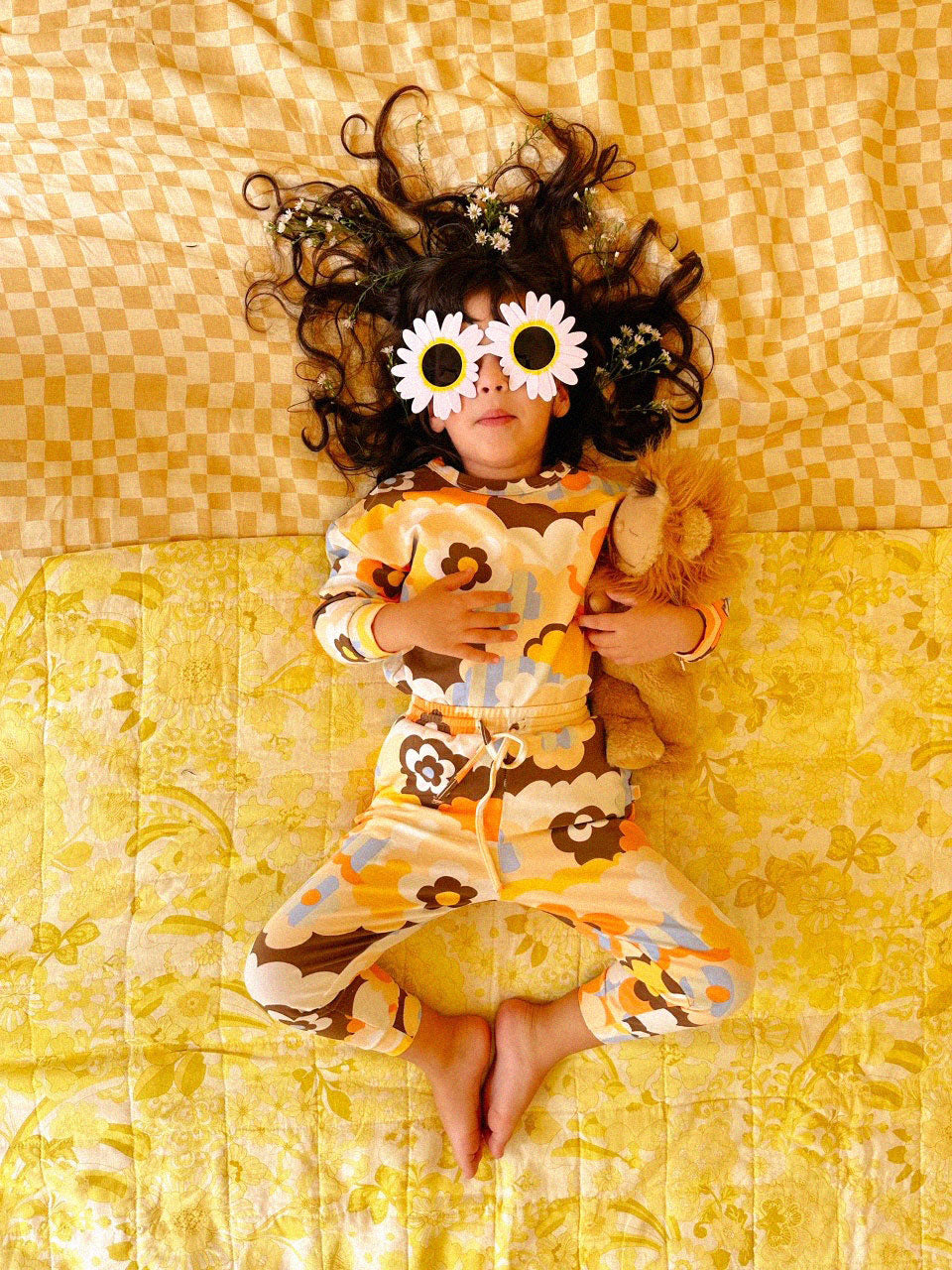 Welcome to the fun and fashionable life of Stefania Brunetti. A content creator and Mum of five, Stef lives and breathes fashion with a flare for colourful pieces designed to last. Her kids get to share in the fun with many adorable shoots featured through her feed. 
WELCOME TO THE DREAMERS. 

COME INSIDE THE HOMES OF EVERYDAY FAMILIES AND BUSINESS OWNERS DOING LIFE THEIR WAY. 
____________
Hi Stef, tell us about your family.
My family consists of myself, my husband Pino and our five kids, Stella, Serena, Piero, Valentina, and Olimpia.
Where do you live in Australia? Any favourite spots? 
We live in Glen Iris in Melbourne. It's a beautiful green and leafy suburb. Favourite spots around Melbourne for me would have to be the South Melbourne Market and Chapel Street for the restaurant life. Glenferrie Road Malvern is my go-to as our family business is based there. It has such a family-friendly vibe with great local businesses.
Petal Puff Organic Cotton Twinset
AUD $85.00
Petal Puff Organic Cotton Jumpsuit
 AUD $55.00
Sundaze Floral / Stripe Reversible Euro Pillowcase
AUD $55.00
Coverlet: Sundaze Floral & Lemon Lime Stripe
 AUD $272.30
We love how colourful your outfits are. What inspires your style?
My style has always been bright and colourful for as long as I can remember. I grew up with parents who lived and breathed fashion and always taught me that quality comes first and that well-made clothing just lasts longer. My dad had a flare for colourful clothes. I always remember him wearing bright designer Italian-made loafers with every outfit he wore, and tracksuits were only for Sunday afternoons. I do believe they were my inspiration for my fashion sense. My style has always been more of a street style. I live for good jeans and a tee paired with sneakers. I love a maxi dress with a super bold print or colour. I rarely wear heels, and sunnies are my favourite accessories.
Rad Dad Tee - Tan
AUD $55.00
Fair Isle Ladies Organic Cotton Jumper
 AUD $159.00
What is a typical day in the life of a mum of five and a content creator?
I'm up at 5.30am and off to the gym for an hour. Then home to make lunches and get everyone up and out the door by 8am. From 9-3pm it's a mix of coffee mornings with Olimpia and our friends, a scooter ride, then back home to cook, clean and do admin. Then school pick up for Valentina and drop kids at after-school activities and part-time jobs. Having teens and younger kids means I am driving around at all random times of the day. And let me tell you, I drive A LOT! Dinner is around 6pm, and that is always chaotic. We rarely have peaceful meal times, but we always eat all together around our dining room table, and that is one thing I will never change. Content is usually created only on the weekends now that Valentina and Olimpia are at school and kinder. After school is a big no-no for taking pics as they're usually super tired. I still don't have any equipment to help me take my photos, just my iPhone. I'm so slack and need to invest in at least a tripod. I edit my pics in bed at night when the younger girls are sleeping. Lights out for me by 10pm. 
Your feed is so much fun! How do you involve the kids in your content? 
Our content journey began with Valentina and kid's fashion. I've always had a huge love for kid's fashion, and once it became a "thing" for me on Instagram, it was like a match made in heaven. The girls know that taking photos of outfits is for brands that gift them products, and they think that that is AMAZING! Valentina especially, who understands what it's all about now, is forever grateful and can't believe how generous people can be. She's now started directing reels of her fashion which she finds really fun, and she's very creative and adventurous with her videos. 
Checkers Standard Pillowcase - Beige
AUD $45.00
Checkers Flax Linen Quilt Cover
 AUD $164.25
Has there been a particularly memorable moment creating content with your fam?
My favourite content would have to be the #myrainbowfashion week I run every year in September. Anyone can join in, and basically, it's a week of colour. Every day has a colour, and people are asked to wear that colour and post and tag us. It's an incredible way of connecting with people from all over the globe, and all the kids involved really love it.
Any exciting plans for this year?
We are building a pool in our garden, so that's our highlight. We are so excited about it. Also, Pino and I will be going on our first Mum and Dad trip solo, yes the first in 20 years of parenting. 
SHOP OUR BRIGHT AND COLOURFUL RANGE FOR THE WHOLE FAMILY:
Keep Growing Hemp Tee - Kids

AUD $49.00
Rad Dad Primary Ringer Tee
AUD $55.00
Early Riser Hemp / Organic Cotton Playsuit

AUD $49.00
Rad Kid Primary Splice Organic Rib Tee
AUD $49.00
Little Sis Organic Cotton Onesie

AUD $45.00
Retro Stripe Organic Cotton Twinset
AUD $85.00