The Dreamers #83 - With Food Photographer + Stylist Kitti Gould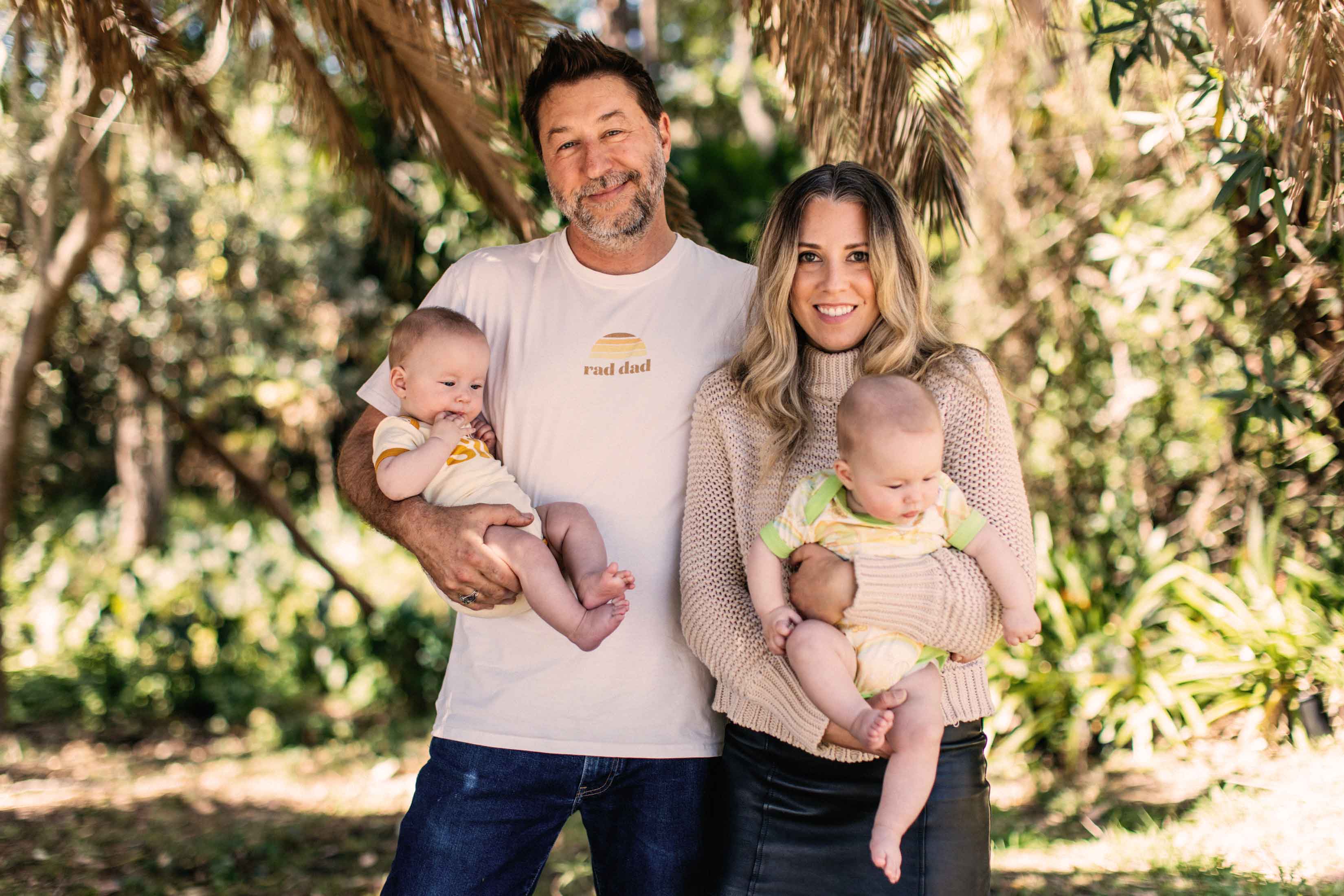 Kitti Gould is a photographer who specialises in the food, wine, travel and lifestyle industries. 
From her mid-century jungle abode, she reveals the freshest and most enticing culinary hotspots nestled within the Central Coast.

WELCOME TO THE DREAMERS. 

COME INSIDE THE HOMES OF EVERYDAY FAMILIES AND BUSINESS OWNERS DOING LIFE THEIR WAY. 
____________
Hey Kitti, tell us who's in your fam? 
Our little Jungle Farm family consists of me (Kitti), Tim and our six-month-old identical twin girls, Ginger and Rose. We also have three cats, nine chickens, and bees - native Australian and European honeybees. We originally moved as a family of three, just me, Tim and our rescue cat, The Good Cat (AKA Maisy), to the Central Coast just over two years ago. Two days in, we adopted three chickens, and in a phenomenon they call "Chicken Math", we now have nine. Their names are Breakfast, Sesame, Roxanne, Szechuan, Nigella, Martini, Vanessa and recently, we rescued Bella and Chica.  
 Our beloved neighbours moved overseas, and we adopted their two cats, The Big Cat (whose official name is Little One) and The Ghost Cat (formerly known as Kira).  
 Once we discovered we were having twins, we realised life was about to get a bit chaotic! Luckily, we also have my mum (Ma) who comes to help us and a strong village of family and friends (thank you all, you know who you are!).
Where do you live? Are there any dreamy spots we should know about?
Our unique mid-century home is a 7-minute walk from Umina Beach on Guringai Country. We call it the Jungle Farm as it is located on Ettalong Creek, which we built a staircase down to so we could look out over the canopy of palms and gum trees.
Our favourite restaurants include the stunning Fisherman's Wharf restaurant owned by our friend Sam and his family in Woy Woy. For something special, the Turkish restaurant Safran by my clients Nat and Sulo in the amazing and bizarre Galleria building is an afternoon well-spent.  I love celebrating birthdays at trailblazing woodfire degustation restaurant Osteria il Coccia, as well as the picturesque Box on the Water for a fancy lunch. The new Greek restaurant Kefi Koolewong by hospitality mogul Tara Senam's Meraki Group is set to be a waterfront asset to the area.  
 Friday night dinners are dedicated to dumpling pop-up The Honest Cook, a family-run local food truck. Lily spends all week hand-making dumplings and chilli sauces from scratch. When you go to pick them up, their kids and helpers are normally sitting out front, always asking about the twins and happily chatting away as you pay and get handed big bags of hot, steamy dumplings. It's such a novelty, something I don't think you really get in town. 
 Tim is an amazing cook, so often, we will just pick up a bottle or two of our favourite natural wines from our friends at Upstairs Wines and sit around the fire, chatting into the night with our new Coastie friends or weekend visitors from the city or out of town. 
 Recently we went to our first Good Gathering by We Are Neighbourgood, an events company by Kristy Austin that "gets under the skin of the cultural landscape of a place". Wines were by Mike Bennie, who has a place up here, with food by the clever Tristan from Rigatoni for Toni and Hayley from Burnt Honey Bakery in Copacabana. It was a beautiful showcase of Central Coast hospitality and left us feeling a little warm and fuzzy.  
 Truly, the food space up here has limitless possibilities and is really coming into its prime. An old colleague, Kel Hart, runs the Facebook Group Central Coast Food Lovers (18.2k members and counting), and it feels like every week there is something new and exciting opening. 
What sparked your interest in food photography?
I started a food blog back in the day when some of the now mainstays (Simon Food Favourites, Not Quite Nigella and others) also began. I quickly realised how much work went into shooting and creating content - the consistency, passion and dedication required is next level! 
Over the years, I have revisited the idea, but in the end, I realise I much prefer telling the stories of others. From there, I went on to complete courses at the Australian Centre for Photography, as well as a Diploma in Graphic Design at CATC. As an advertising Art Director, I honed my craft and ended up working for a big hospitality group. It took a huge leap of faith, but I eventually went out on my own and now my clients include chefs, restaurants and brands I used to dream about collaborating with.
Do you have any favourite chefs or foodies you like to work with?
Every single client I have worked with has taught me so much. These days, I am lucky to work with clients who normally come to me because they know my work and want my style for their own brand. I love working with people on repeat over time as our style evolves together. When my friends open new places and get me in to shoot, it's always such a privilege. Thank you for trusting me with your visions!  
 One client I am honoured to work with is Plate it Forward, a "social enterprise hospitality group providing food relief, training and employment opportunities, and career pathways to marginalised members of the Sydney community." Their restaurants employ refugees displaced by war, and they partner with sister businesses in the restaurants' country of origin to provide meals back home too. The recent Kyiv Social employs Nadiia, who came over from the Ukraine recently with her seven-year-old son when the war broke out. We are lucky to have her! 
 I also love working with upcoming First Nations chefs and feel honoured to showcase some of the native produce being grown by community enterprises such as Native Foodways and Arabella Douglas' Currie Country. 
 There is also something very special about working with powerhouses like my friend Jacqui Challinor from Nomad Group, Sammy and Bella Jakubiak (MKR winners and owner of Frank's Deli and Bella's Feast catering), food writer extraordinaire Sofia Levin from Melbourne and the lovely Justine Schofield of Masterchef fame who I create a lot of brand content with alongside stylists like Amanda Chebatte (Gourmet Traveller, Bauer Books).
What's it like being a new mama and juggling a business?
So far, every moment has been a bit of a trial by fire! I just got off my first pre-production meeting for a massive client with a sleeping kid strapped to me (and one to the dad) because the meeting day changed at the last minute. I am very grateful for the understanding and flexibility afforded to me and am excited to navigate this new territory as a family. There aren't many mamas I can look to with similar jobs, so it's all really new for me. I feel super lucky that I have the support of my partner Tim, and we can usually manage to figure things out together. Many of my amazing clients are mums, and in the industry at large, there are well-respected stylists and writers I admire who have kids. I know we will get the hang of it.
What has surprised you most about being a new parent to twins?
There is literally nothing I could have predicted about having twins. Firstly, the fact that we have twins at all! Ours are identical, which doesn't run in families, so it's a magical natural phenomenon I marvel over daily. How our babies have identical DNA, and yet two completely different little personalities are forming, is actually mind-blowing. Watching them discover each other is pure magic, and when they get cranky or sad, I watch them hold hands and smile at each other, and it could honestly melt your heart. To all the twin parents out there, you are amazing!!!
Are there any exciting things coming up this year?
I feel like somehow, this year is almost over as we head into shooting for the holiday season. Next year, we have some really exciting TV shows coming up, including one overseas, so I am excited to get stuck into some bigger projects. There are some potential cookbook projects in the works and new venue openings, which I am always here for. 
Favourite Banabae pieces?
As I was searching for a robe while breastfeeding in the cold winter months, I stumbled across the happy, retro Rad Mama collection. It put such a big smile on my face that I ended up buying Rad Dad and Rad Nan pieces for our little Jungle household and twin village to remind us we were doing a rad job raising two humans at once. Our house was built in 1970 and is the zeitgeist of mid-century design, with a relaxed coastal Aussie vibe. I love how The Beneath The Waves range feels like it was here before we were.