The Brightside: Mexican Power Rolls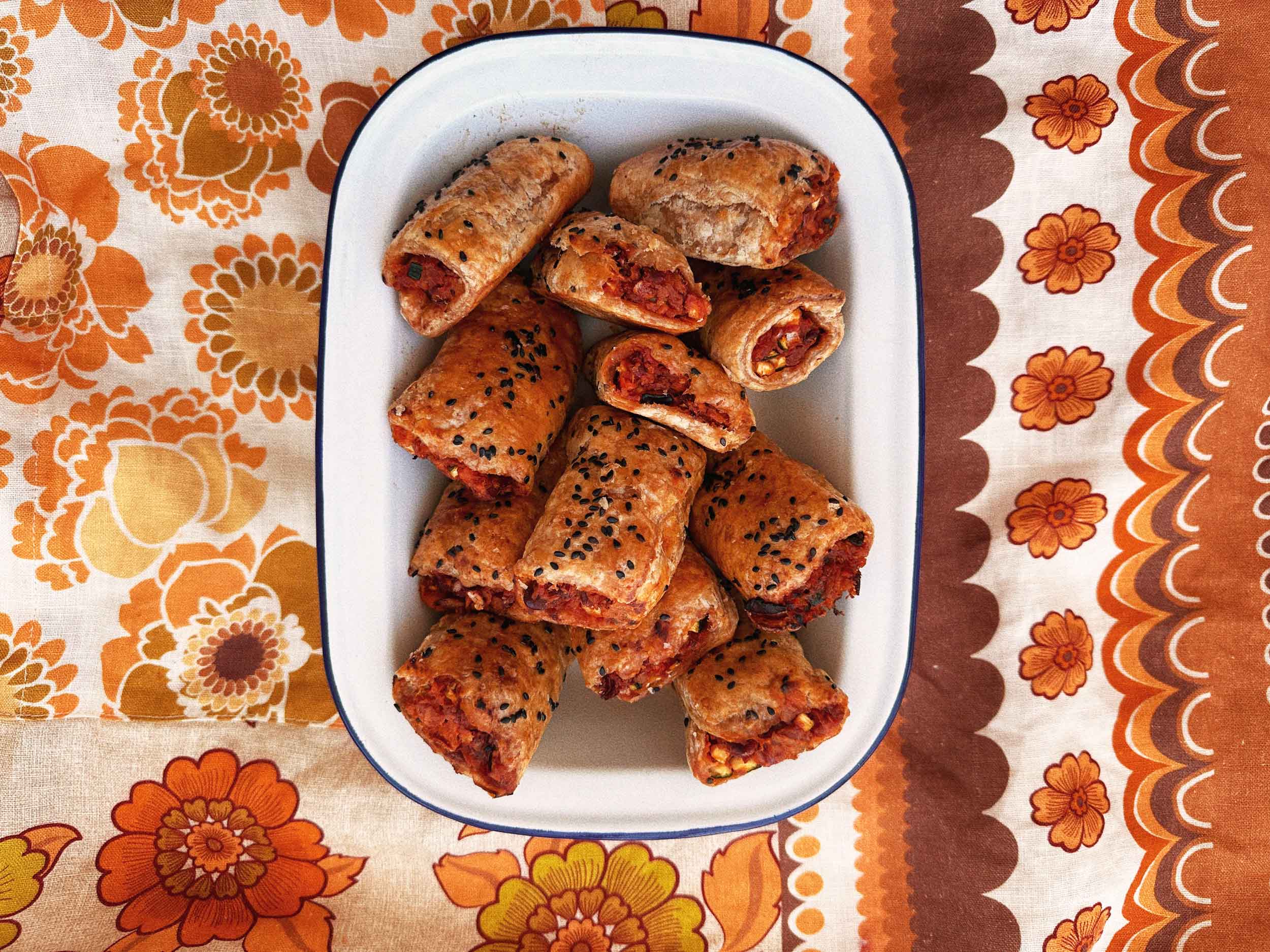 Introducing our new series of monthly recipes by Leila Armour of Village for Mama (@villageformama). Leila is a mama of three, a holistic post-partum doula, a pregnancy and post-partum nutritional consultant, an author and a cook. This week, she has cooked us up some Mexican Power Rolls!
- 2 cups sweet potato, cubed 
- 2 cups zucchini, finely chopped 
- 1 x 420g can red kidney beans, drained  
- 1 small red onion, finely chopped  
- 140g tomato paste 
- 1 tsp ground cumin 
- 1 tsp smoked paprika 
- 1 tsp dried oregano 
- 1/2 tsp chilli powder (optional) 
- 1 tsp salt 
- Olive oil
1. Preheat oven to 180 degrees fan forced. Line two baking trays. 
2. Place sweet potato on one tray, drizzle with olive oil and sprinkle with salt. Bake in the oven for 25 minutes until soft. 
3. Transfer sweet potato to a bowl and mash. Add zucchini, red kidney beans, red onion, tomato paste and spices and thoroughly combine. 
4. Cut each pastry sheet in half and carefully pipe or mould the mixture onto the long edge of the puff pastry sheet. 
5. Roll each sheet to form a log, then set aside. 
6. Once all sheets are rolled, using a sharp knife, cut the logs to your desired shape and place them on a prepared oven tray. 
7. Brush each roll with egg mixture, then sprinkle with sesame seeds. 
8. Bake the rolls for 25 minutes or until the pastry is golden brown. Transfer to a wire rack immediately to allow to cool before serving.
____________________
Storage note: Rolls can be stored in the fridge for up to 6 days and can be frozen (cooked or raw) for up to 2 months. 
 Sensitivity note: Kidney beans can be replaced with a cup of black rice for those sensitive to beans. It can be made vegan and gluten-free by substituting the pastry for an appropriate alternative. 
More recipes from the Brightside blog:
The Brightside: Lamb Shank Ragu
The Brightside: One Bowl Carrot & Apple Snack Cake
Follow Leila Armour from Village For Mama: 


Shop our range of kitchen napery: