The Dreamers #86 - With Photographer Nathalia Crabtree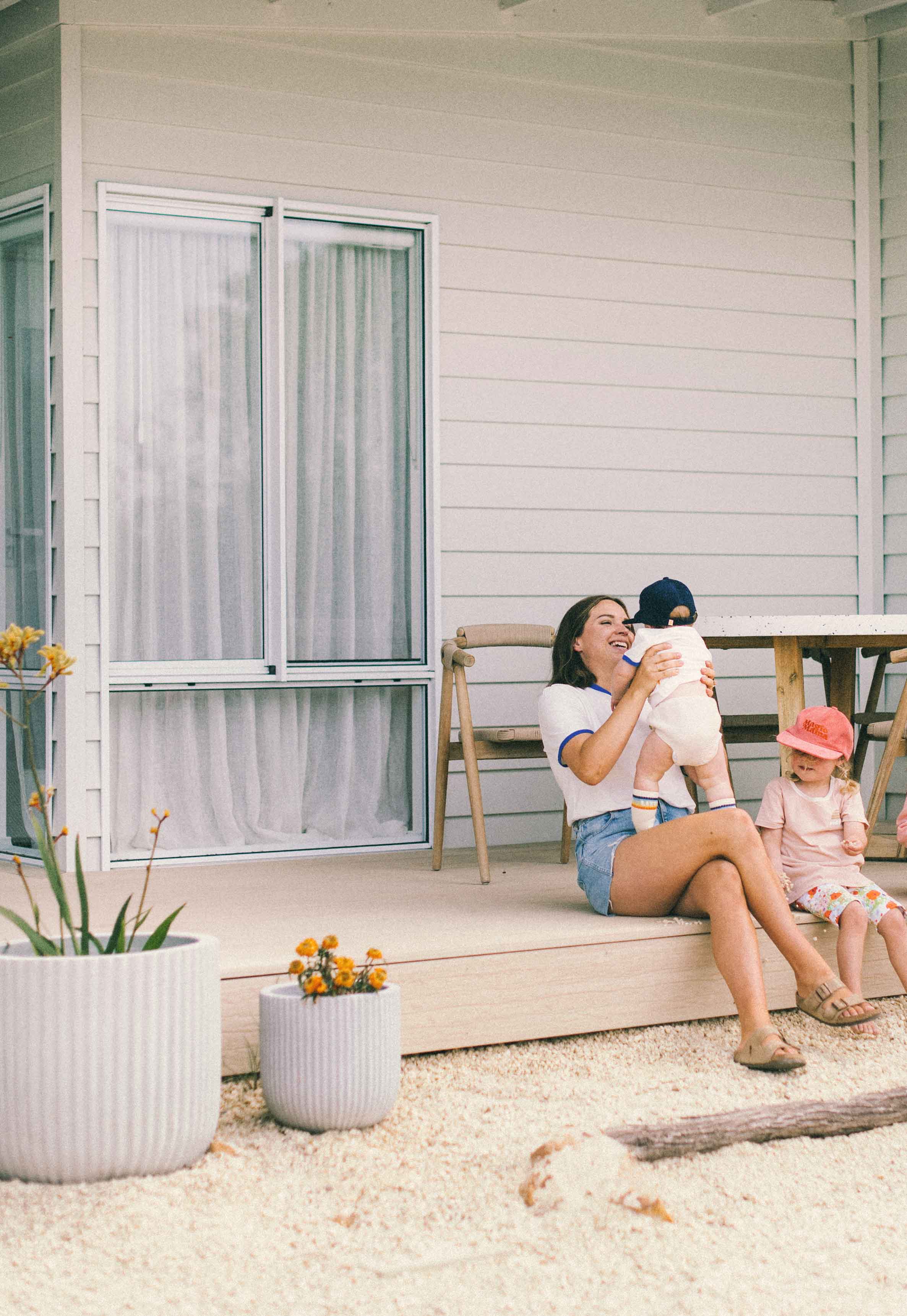 Nathalia Crabtree leads a purpose-driven existence, nurturing little ones and going between her farm and beach house in Western Australia. Nathalia is a visual storyteller with a keen eye for aesthetics. Embracing her role as our latest Dreamer, she invites us into her stunning beachside abode, offering glimpses into her life and imparting invaluable styling wisdom.

WELCOME TO THE DREAMERS. 

COME INSIDE THE HOMES OF EVERYDAY FAMILIES AND BUSINESS OWNERS DOING LIFE THEIR WAY. 
____________
Hey Nathalia. Tell us a little bit about you and your fam.
Hello! It's me and my husband Brett, and our three kids - Pip, Liv and Leo and they range from ten months to just over six. They are all super energetic and have wonderful and vivid imaginations, so there are lots of games involving building things and lots of art time in this house! 
My baby boy has just started walking around furniture, so that's keeping me on my toes. Sometimes, I have to pinch myself when I realise we have THREE beautiful children. It's just the best. We weren't sure we'd have any at all, and it took a fair bit of effort, fertility treatment-wise, to have our two daughters. Then, the little boy just happened after a miscarriage, so he was a rainbow miracle for us.
Your Instagram feed is full of dreamy landscapes. Tell us where you live.
We live on the coast of Western Australia. We split our time between our beach house overlooking the ocean a few minutes from Bremer Bay's white sand and endless beaches. We then have our farmhouse, about half an hour inland. We run a large-scale mixed crop and sheep farm (plus a bunch of cute cows!) with family, and it is a busy life but one we love.  
 Being close to nature and working the land is special, especially for my husband, who's a third-generation farmer here. The nature around us is incredible (and very Australian, with kangaroos everywhere!), and I try to get us all out every morning to the beach or for a walk along the river. It makes for a great start for both me and the kids. I feel like the days that I don't get outside, my mood drops, and everything feels a bit overwhelming, especially this time of year when we are harvesting on the farm and the days are long. 
Getting outside for some fresh air and vitamin D sets me up to be more patient and grounded. An extra plus is when we walk to the beach with friends, have a chat and have outside time. Nothing better!
Could you share with us your journey into the world of photography?
While I studied photography as part of my journalism degree, I only started taking photos properly when I had my eldest, Pippa. I felt a bit lost creatively and decided to take photos every day, and it was so much fun. 
I then started working with a few brands, moved into photos of me and my girls and fashion (which I LOVE!) and then moved on to landscapes. It's given me such a huge appreciation for nature, even more than before. I see beauty differently now and think about how light falls on the trees at sunset and how beautiful the white clouds are against a blue sky.
What's it like being a mama and business owner?
Being a mama and business owner is totally nuts! Especially since we have the farm and my husband works insane hours. But it is so wonderful, and I feel incredibly lucky to do what I do. Photography gives me the creative job I need to feel connected. 
Farm life can be isolating at times, and photography allows me to work with people all around the world. It gives me a reason to work with beautiful things and share them with others, which excites me. At the moment, with Leo being so little, I'm very selective, and I've enjoyed working with brands I absolutely adore, picking pieces with care that I think could add something to other people's lives. 
What are your top tips for creating a beautiful, family-centred home?
My home is my haven, truly. I love the beach house as our farmhouse is old and a bit dusty. It's beautiful, but it takes a lot of work to keep it tidy with all the tractors driving past! I try to keep my house reasonably minimalistic. I love pretty things, but too much clutter makes me feel stressed, so I always put things in the cupboards - my husband would say hide and forget about it! 
I love working with neutral tones to start with and add in gentle colours. Currently, pops of blue are my favourite. There are lots of lovely oak pieces I know I will love for a long time. I am very impulsive, but I've learnt that I need to think about what furniture pieces I want or need for a long time to get it right. Sometimes impulsive buying works, but I've often ended up with things I don't actually like after a week. So, as I get older, I let things take time and have ended up with items that work together and that work with a wide range of art and textiles, too. A natural base for fun styling is key for me.
Any exciting plans for the rest of the year?
The only plan for the rest of the year is to get the harvest done! Hopefully, before Christmas. Last year, it dragged on, and that didn't make anyone happy. Besides that, I'm always excited to catch up with dear friends, collaborate with beautiful brands and spend endless beach days with my kids. Bring on sunshine, salt water, plus far too many ice creams!
Fav Banabae pieces?
Picking my favourite Banabae pieces is so tricky, but I love love love love the caps and tees! We got some for Brett for Father's Day, and he loved his Rad Dad cap and shirt. The girls were so excited to give it to him. I love the pink corduroy caps for the girls and Leo's little blue one, too. And I'm definitely going to get a 1st Birthday cap for his birthday in January. I love all your beautiful materials and colours. It all sparks a lot of joy!
Nathalia Crabtree

Photographer of slow fashion & interiors + our life by the sea farmer's wife, mama of three.

Shop Nathalia's favourite pieces: