The Dreamers #87 - Embracing Bold 70's Design With Estelle Bilson From 70s House, Manchester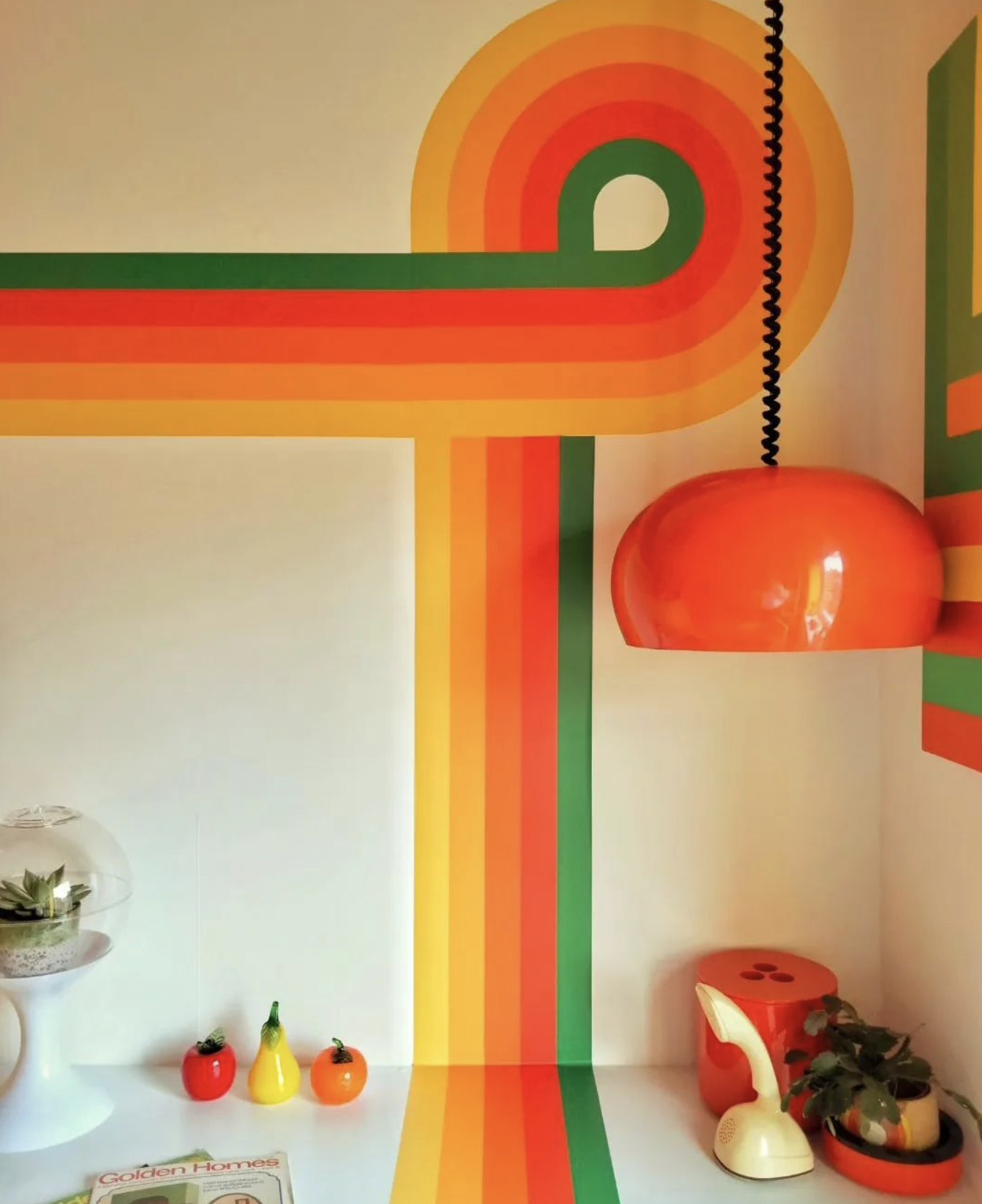 70s House Manchester was conceived by Estelle Bilson, a renowned best-selling author, designer, and TV presenter specialising in mid-century interior design. Estelle joins us as our latest Dreamer as we chat about all things retro.

WELCOME TO THE DREAMERS. 

COME INSIDE THE HOMES OF EVERYDAY FAMILIES AND BUSINESS OWNERS DOING LIFE THEIR WAY. 
____________
Hey Estelle. Tell us a bit about yourself. 
Hi, my name is Estelle, and I live in Manchester in the UK. I sometimes appear on the BBC on a show called 'The Bidding Room' as one of their expert dealers, specialising in mid-century and specifically items from the 60s and 70s. I live in a home which is decorated entirely in a fantasy 70s scheme, with almost exclusively thrifted home pieces. I have an Instagram account called '70s House Manchester', and I recently wrote a book called '70s House', which is an inspirational sourcebook for those wanting to start collecting or for those interested in the decade.
I live with my husband, Stephen, and we have a child together, who's 7. We also have a very ancient black cat called Elvis, who is 13.  
Manchester is the other side of the world to Australia. Tell us what it's like over there.
Manchester is often nicknamed the rainy city, and it is true, it rains 2/3 of the year, but as Billy Connoly once said, "there's never the wrong weather, only the wrong clothes". You get used to it in the end. I grew up in the midlands/east Anglia and worked in London for nearly 20 years. London and Manchester are poles apart when it comes to people. I've found people much friendlier here and approachable. There's a real sense of community, and I love living where I do.
We are OBSESSED with your page. How would you describe your 70s house? 
The social media started as a bit of a joke. My friends said people would be interested, and I laughed. Turned out they were right. People seem to love a bit of orange and brown. During lockdown here in the UK, I was bored out of my mind. I was a technical designer and product developer before I had our child, so I ended up bringing a collection of retro-inspired homewares out, which was fun but hard work as it was entirely self-funded and managed. I hope to bring more designs out in the near future. 
From this, I was approached by a television production company to try out for a TV show, which I wasn't sure of at the time. However, my husband encouraged me, telling me I knew more than I thought I did and to see where it ended up. I have filmed five series now and the show is hosted by national treasure, Nigel Havers. 
 My biggest moment came in late 2021 when I was approached via email by a publishing house to see if I was interested in writing a book. I had to pitch my idea, and luckily, they loved it. It was an enormous amount of work and something that I still struggle to believe I have done. It was a real 'pinch me' moment that I am so proud of. I hope to write more books in the future!

The 70s House book has finally landed in Australia! Tell us more.
Yes! It was published in Australia in July 2023, and I've received a lot of love from people over there. A lot of you really dig the retro look. Two homes that I featured in the book are homes in Australia, one of which belongs to Dann, who owns Retrospectum shop and who is also a stockist and has always been a huge champion of my work.
As a fellow vintage lover, what tips do you have for people looking to spark some nostalgia in their homes?
I think colour is a brilliant way of injecting retro styling into space, along with the use of patterns. Some patterns instinctively scream the 60s/70s. I am also all for supergraphics, which you can paint on the wall with tester pots. It's a great statement to make, and it can be done on a budget. If you get bored, you can paint over it and do something new. If you are looking for furniture and accessories, then Facebook Marketplace is always a go-to. I've found some great pieces on there!
Any favourite Banabae pieces?
I love your Retrograde and Petal Puff quilt covers and pillow slips. It reminds me of one my parents had in the '70s! It would be really easy to style up a great retro bedroom with this. I love the cord and printed cushions, blankets and rugs, as they are a great way to inject some retro styling into your home without going full-on if you are unsure if you're going to love it. It's also great for renters.
Estelle Bilson - 70s House

A bold homage to the most daring decade in design.

Shop Estelle Bilson's favourites: