The Brightside: Chicken and Vegetable Pie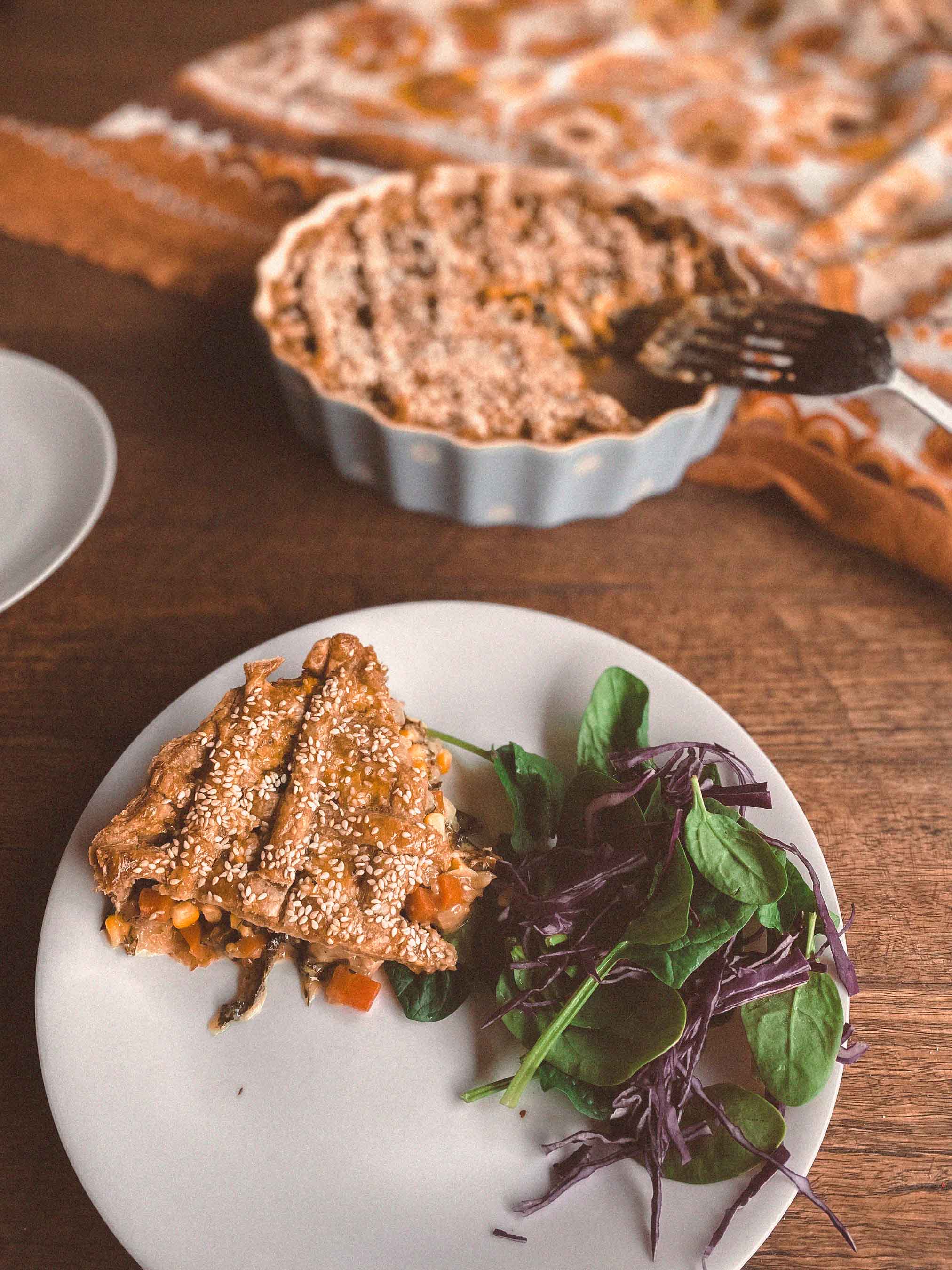 THE BRIGHTSIDE: CHICKEN AND VEGETABLE PIE
Need something to serve for a Father's Day lunch? Nothing beats a family-sized pie! It's hearty, comforting, packed full of veggies and has a delicious sesame crust.
- 2 tablespoon extra virgin olive oil or butter 
- 3 chicken thighs, diced 
- 1 onion or leek, finely sliced 
- 2 cloves garlic, crushed 
- 1 carrot, diced 
- 2 1/2 cups chopped veggies (spinach, broccoli, corn, kale, zucchini) 
- 1 handful fresh parsley or thyme 
- 1 tsp seeded mustard 
- 1/2 cup bone broth (or stock of choice) 
- 1/2 cup milk 
- 2 tablespoons flour (plain, spelt, tapioca, buckwheat) 
- 1/2 cup cheddar, grated 
Salt and pepper 
- 1-2 sheets puff pastry (I use wholemeal spelt puff pastry) 
- 2 tablespoons sesame seeds
1. Preheat oven to 180°C. 
2. Lightly grease a large pie dish. 
3. Add half of the olive oil to a large fry pan over medium heat. Add the chicken and brown on all sides for 5-8 minutes. Remove from the pan and set aside. 
4. Add the rest of the olive oil to the pan and turn the heat down to low. 
5. Add the onion with a pinch of salt. Cook for 5 minutes, then add the garlic and carrot and sauté for a further 5 minutes. 
6. Return the chicken to the pan with the veggies, herbs, seeded mustard, bone broth and milk. Stir to combine, then add the flour. 
7. Continue to stir for five minutes or until it reaches a thick consistency. Turn off the heat, then stir through the cheddar. Season with salt and pepper. 
8. Line your pie dish with pastry, keeping a bit of pastry for the top. Add your filling, then crisscross the top with whatever pastry you have left over. 
9. Brush the top of the pie with milk or egg wash. Sprinkle with sesame seeds. 
10. Place in the oven and bake for 40 minutes or until golden on top.


More family-friendly recipes from our blog:


Shop our range of homewares napery:
Joni Rad Cook 100% Linen Tea Towel
AUD $35.00
Kiss The Cook 100% Linen Tea Towel
AUD $35.00
Arabella Linen Table Cloth
AUD $149.00
Joni Rad Cook 100% Linen Apron
AUD $89.00