The Brightside: Maple Pecan Carrot Cake From Of Oat & Earth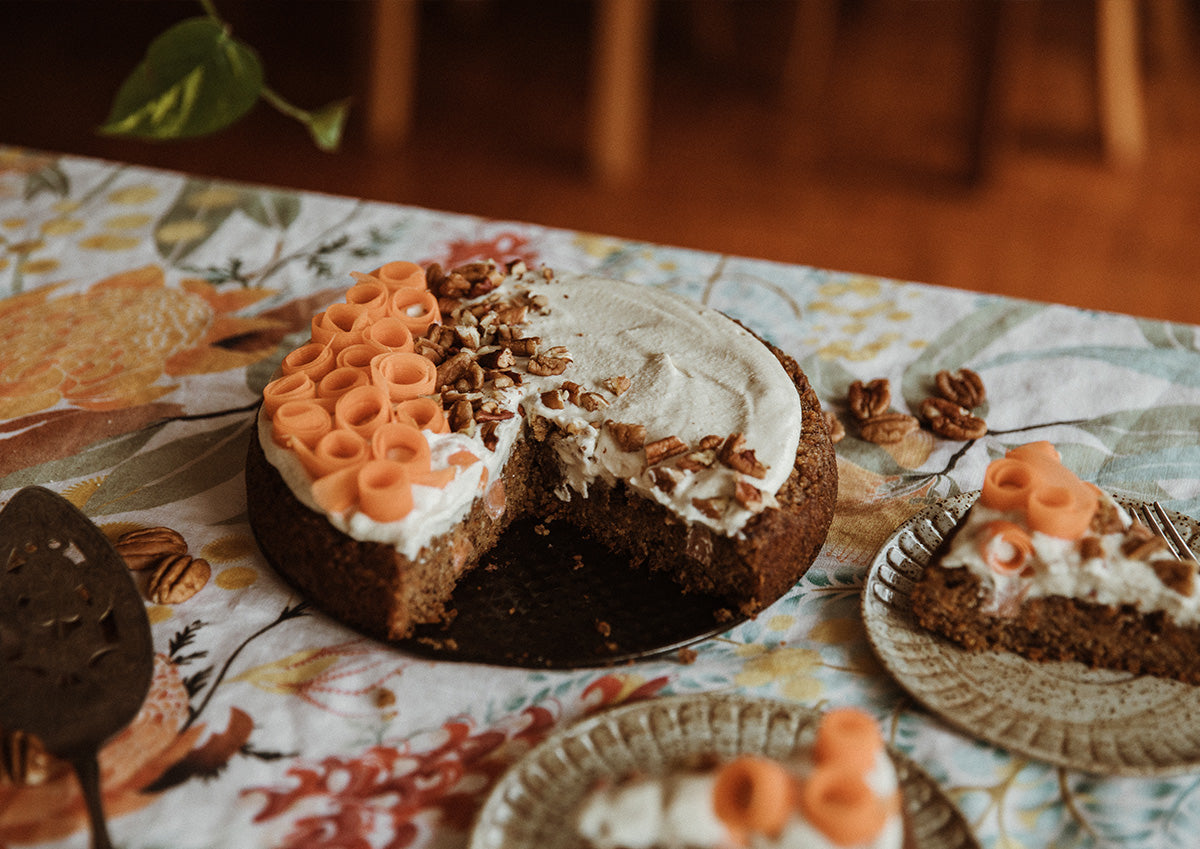 MAPLE & PECAN CARROT CAKE 
This week we chatted with Krystle from Of Oat & Earth. She shares with us a bit about her life in Thirroul, her favourite food spots and what she loves about baking. She has given us this delicious cake recipe, which is vegan and gluten-free. The warming spices, the creamy and not overly sweet icing, and the crunch of the toasted nuts makes this the perfect go-to recipe for a cosy day at home.
What is your name? Tell us a little about what have you been up to lately and what has been the highlight of your Autumn so far?
My name is Krystle, and it's a gorgeous, sunshiney Tuesday here today! Well, usually I love to visit the Blue Mountains in Autumn for all of that gorgeous colour found in their deciduous trees. We weren't able to make it this year, but a weekend in the Hunter Valley with wine tastings and slow pancake breakfasts in the sunny garden was definitely a highlight!

Where do you live? What are your favourite local spots? 

I live in beautiful Thirroul, on the NSW South Coast. I love the whole coastal walk between Stanwell Park and Bulli and the Wodi Wodi Forest Trail for bush walks with the most stunning coastal views! In terms of local eateries, our favourite across the road is South Sailor. Their grilled octopus, XO Greens and GF Korean Fried Chicken (not something I would usually order but always do here) are so delicious! We also absolutely love Balinese Spice Magic in Wollongong for the most tasty, nourishing gluten free, vegan options made with the freshest local ingredients! We always order the Tempeh Lala Manis, the Gado Gado and the Lawar Celeng with turmeric garlic rice - so good! The owner, Jules, is also such a gem!

Tell us a bit about your baking. How did you get into it?

Growing up out of town, I often occupied my childhood weekends by baking and making desserts like creamed rice. I also worked in a bakery throughout high school and have just always loved food! My mum is a great cook and very intuitive in the kitchen - never following a recipe and just making it up herself. Once I left home, I too fell in love with the slow rhythms of getting creative in the kitchen. Once I was diagnosed with an autoimmune disease, I moved my focus to nourishing, wholefood cooking that was free of inflammatory foods and had a focus on nutrition and food as medicine. 

Where did you come up with this recipe?

This recipe is inspired by the season of Autumn, a time when I crave warming, comforting flavours like the chai spices I've used here. I drink chai tea every day and love adding the flavours to my baking. Carrot cake has always been my favourite type of cake, especially paired with cream cheese icing! I decided to combine the two and make it vegan so that I could make it for a friend's birthday dinner. The cashew cream cheese worked out perfectly, and I haven't made any other carrot cake since!

Maple & Pecan Carrot Cake

Ingredients:
 Cake: 
- 3 flax eggs (3 tbsp flaxseed meal + 7 ½ tbsp water) 
-  ½ cup maple syrup 
- ¾ cup olive oil 
-  2 cups almond meal 
-  ¾ cup oat flour 
- 1 firmly packed cup grated carrot 
- 1 tsp bicarbonate soda 
- ½ cup pecans, toasted and roughly chopped
Spice Mix:  
- 1 tsp ground cinnamon 
- 1 tsp ground ginger 
- ½ tsp ground nutmeg 
- ½ tsp ground cardamom 
- ½ tsp ground cloves
Cream Cheese Icing:
- 1 cup raw cashews, soaked overnight and drained 
- 1 ½ tbsp maple syrup 
- Pinch of salt 
- ½ tsp nutritional yeast 
- Juice of ½ small lemon 
- 1 tbsp coconut yoghurt 
- 2 tbsp water

Additional toasted pecans, for on top.
Method:

1. Preheat the oven to 160C and line a 20cm cake tin with baking paper. 
2. Make the flax eggs by combining all ingredients in a large mixing bowl and whisking to combine. Set aside to thicken. 
3. Add the maple syrup and olive oil to the bowl and whisk again before adding all remaining ingredients, including the spice mix. Stir with a wooden spoon until well combined. 
4. Pour the batter into the lined cake tin and place into the oven to bake for 45-55 minutes or until a skewer inserted into the centre comes out clean. 
5. Allow to cool completely in the tin before carefully turning it out onto a serving plate. 
6. Meanwhile, make the cream cheese icing by adding all ingredients to a blender and processing until very smooth and creamy. 
7. Spread the icing over the cooled cake and then top with additional pecans and carrot curls, if you fancy it. To make the carrot curls, simply use a peeler to peel ribbons from a baby carrot, wrap them around your pinkie finger and then carefully place on top of the cake. Serve at room temperature and store in an air-tight container in the fridge for 3 days. Enjoy!


SHOP OUR COLLECTION OF
HOMEWARES NAPERY:
Arabella Linen Table Cloth 
 $149.00
Arabella Linen Napkin Set
$65.00
Wattle Wander Linen Napkin Set
$65.00

Wattle Wander Linen Table Cloth
 $140.00
Read more from our blog - the brightside: