The Dreamers #40 - Summer of '75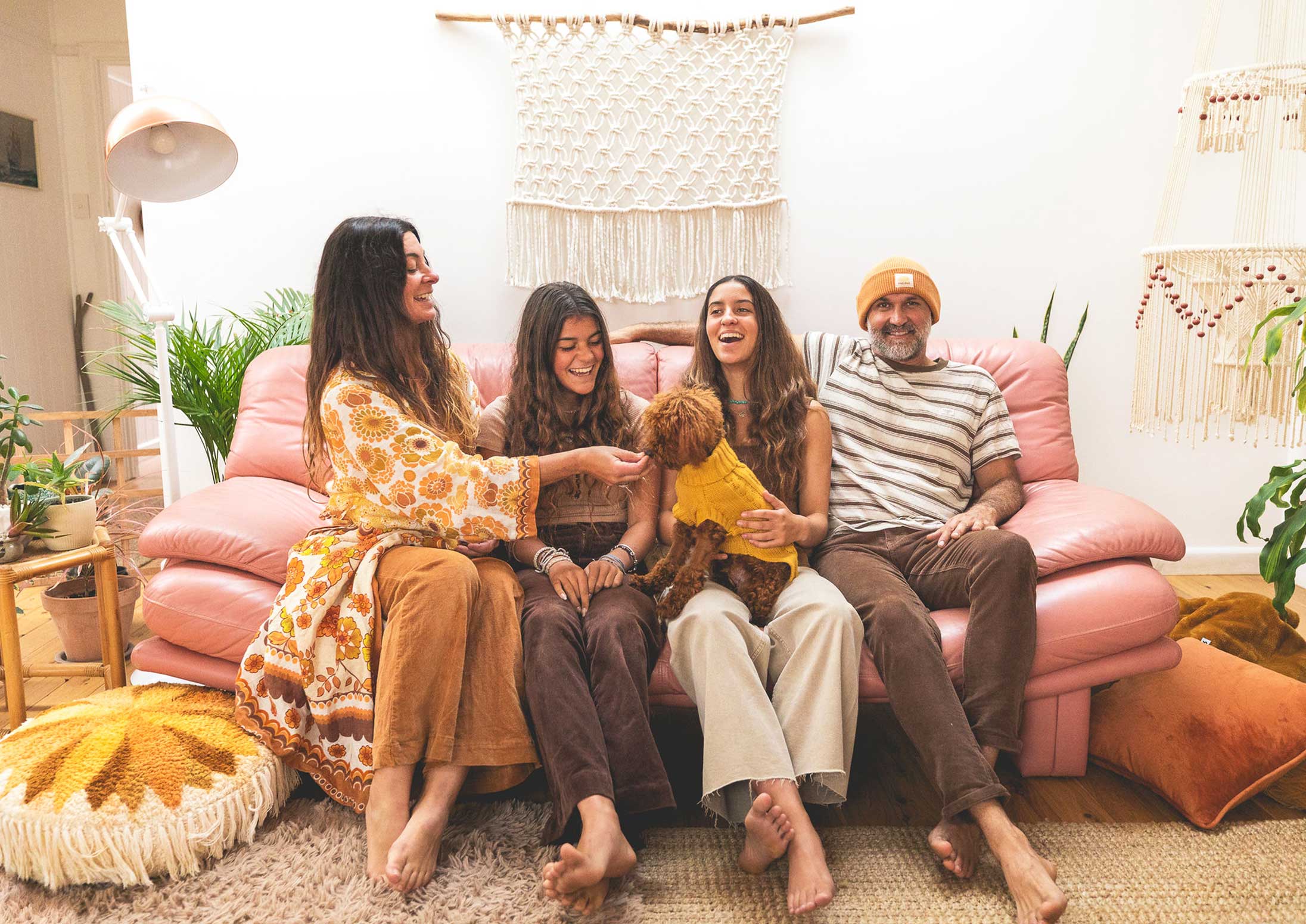 Meet Amber, our latest dreamer from Summer Of Seventy Five.

Amber takes us through her original post-war beach cottage, which has been given a new lease on life with some 70s styling. She shares with us her tips for renovating and where she discovered that pink couch.
WELCOME TO THE DREAMERS. 

COME INSIDE THE HOMES OF EVERYDAY FAMILIES AND BUSINESS OWNERS  DOING LIFE THEIR WAY. 
____________
Tell us a little about the home's history.
It's an original 50's post-war beach cottage that had been left run down and neglected. A classic case of the worst house in the best location! We loved its humble roots and the period details like the Art Deco cornices, picture rails, and original timber floors. Rather than knocking it down, we took on the daunting project to bring her back to her former glory and make it liveable for modern life. After two years of blood, sweat and lots of tears, we have turned a forgotten old house into our dream beachside home.
What was your design philosophy for the reno?
We had a vision of a coastal vintage-inspired space that paid homage to its 50's roots, but also drew on my love for the 70's and coastal styling. We wanted to keep true to the humble nature of the post-war home and preserve the traditional details. I see too many of these old homes being bulldozed, and that history is then lost forever. Being a surfing family living by the beach, the ocean is a big part of our lives, and we wanted to reflect that in the home. There are quirky seaside finds scattered around the house, and trinkets in each room that evoke nostalgic memories.
Any non-negotiables for the renovation?
Something we just couldn't sacrifice was a space filled with lots of light, so having sunshine bouncing off the walls was top of our list. The original layout was dark and pokey, so we added massive skylights that span 8 metres along the living room ceiling. It creates an incredible wall of light that changes with the seasons, and at night we can lay on the lounge stargazing and watch the moon pass overhead. 
We love your use of shutters to create an indoor/outdoor space. Tell us a bit about this room.
We spend more time outside than in. The outdoor room becomes an extension of the living space, opening out with big bi-fold doors. We have a beautiful gumtree in our yard, and the space is surrounded by greenery. In summer, we open the louvres and catch the sea breezes which cools the house down, and in the winter months, we close them and create a warm and cosy sun-drenched verandah, perfect for sipping cups of tea on the day bed. We don't have a dining table inside our home. We're more floor cushion people, so we have a long farmhouse table which makes for nice gatherings outside on the back verandah.
You have some retro furniture gems sprinkled throughout the home. How do you source your vintage furniture finds?
I think our entire home's contents has been sourced second hand! I'm always on the lookout in secondhand stores, Marketplace, and Gumtree for vintage wares, although the best finds have usually been on the side of the road. We picked up an amazing retro coral leather lounge in a dumpster of all places. It's in amazing condition and so comfy! Our antique terracotta cast iron bath was actually an old horse trough we picked up on Gumtree for a steal, complete with a matching pastel pink basin. There's just something so special about giving old furniture a new life, and I love wondering about the history of where it came from.
What is the most lived in room at your house?
I could happily spend hours soaking in the bath. It's like a sanctuary and my favourite place to be at home. What I love most about our little home is that it brings us all closer together, either in the kitchen or on the floor around the coffee table. It's just a lovely humble, and cosy space to be.
Arabella Linen Table Cloth
$149.00
Arabella Standard Pillowcase SET
 $89.00
Joni 100% Linen Robe
$179.00
Joni Kids Quilt Cover
 $199.00
Joni Rad Cook 100% Linen Tea Towel
$35.00
Sunflower Tufted Floor Cushion
 $195.00
READ MORE FROM THE DREAMERS BLOG: