Your Nursery Setup Sorted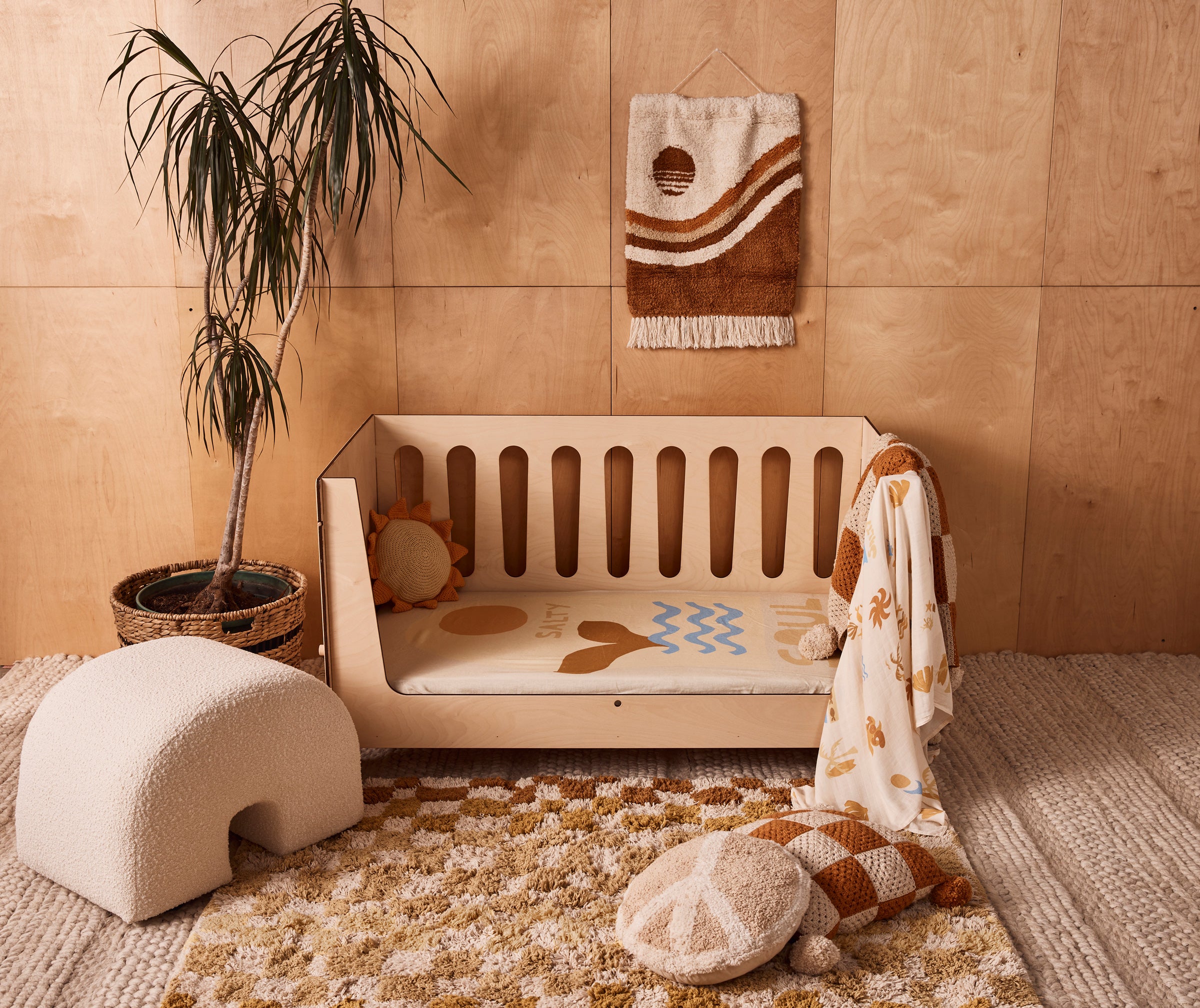 The cot:

You may start out with a bassinet, but the cot is often the big investment piece for the nursery. Our absolute fave is the Plyroom Ava Life Stages Cot (pictured below). This thoughtfully designed piece makes a beautiful cot and then converts to a toddler bed and then a desk! Made by a local Aussie business from sustainable birch ply, this is certainly a piece worth investing in.
Style it with our:
Sunshine State Tufted Wall Hanging 

Bedding and sleepwear:

In the early days, your washing basket will pile up daily with vom and poo stained bedding. Oh. The. Joys. This will happen less over time, but to start out, these are the numbers we recommend for bedding and sleepwear so you don't get caught out:
- 6-8 swaddles
- 3 sleep sacks
- 3 cot / bassinet sheets
- 3-5 blankets 8 onesies
Nappy change area:

This is where all the fun happens!  
You can use a change table or a chest of drawers if you need to maximise space.
Here is what you will need: 
 - A changing matt 
 - 3-5 changing mat covers (Banabae bassinet sheets fit perfectly) 
 - A nappy bin
 - Storage for towels/wipes/cloth nappies/nappy creams etc 
 - A mobile can also become useful in this area to distract older babies once they start to wriggle away and resist changes.
Handy storage items: 

- A chest of drawers with dividers
- Toybox
- Bookcase or shelf
- Cane baskets for general items
Nursing chair:

This is a place where you will be spending a lot of time, so do your research and find something that suits you. We love a rocking chair for babies that need a bit of movement to soothe. 
Floor play area:

Having a clear space for tummy time is a good idea. You will need a nice soft rug or play mat with some toys or a play gym. Floor cushions are also perfect for lazing about and reading together.
Style and decor: 

If you want to create an overall consistency to the look and feel of your nursery, it helps to pick out a theme, style or colour to start with. Not sure where to start? 
Here are a few easy ways: 
-  Choose a palette of 2-3 colours
- Buy a bedding set as inspiration and establish a theme from there
- Create a feature wall with paint and/or decal
- Buy a feature piece such as an artwork and use the colours and theme to build on
Finishing touches:

Finish off your nursery with plants, a few special clothing items on hanging hooks and some sentimental items like photos to give it that personal touch. 
 Still a bit lost? Check out our other blogs, where we break down common nursery styles into different categories of drool-worthy looks. 
 Banabae. X


EXPLORE OUR EXTENSIVE RANGE OF  NURSERY PRODUCTS:
G'day Gum Trees Tufted Wall Hanging
 AUD $199.00

Marsupial Fitted Bassinet Sheet / Changing Pad Cover
AUD $51.75
Honey Bunch Nursery Bundle
AUD $195.00
Sunshine State Fitted Cot Sheet
 AUD $89.00

Sunny Daze Floral Organic Cotton Blankie
AUD $129.00
Honey Bunch Ringer Organic Cotton Onesie
AUD $45.00
Checkers Crochet Cushion Cover
 AUD $129.00

Sunflower Tufted Round Rug
AUD $399.00
Salty Soul Bamboo / Organic Cotton Swaddle
AUD $49.00