The Dreamers #34 - Meet Artist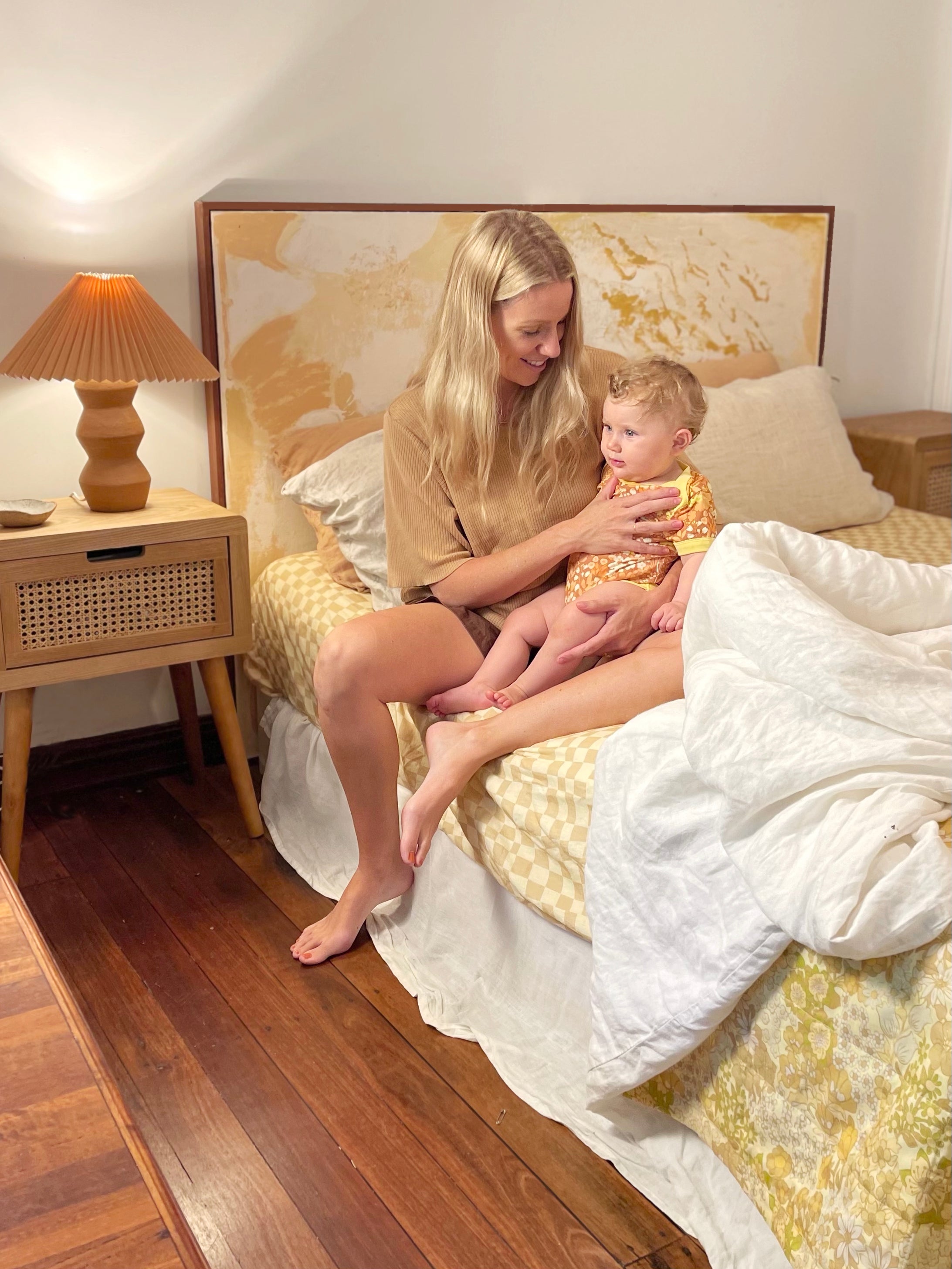 Meet Ash, our latest dreamer, artist and mother from Coledale just south of Sydney. She takes us through her day spent in her studio creating abstract art while raising her two beautiful girls.
WELCOME TO THE DREAMERS. 

COME INSIDE THE HOMES OF EVERYDAY FAMILIES DOING LIFE THEIR WAY. 
FROM DAILY ROUTINES TO INTERIOR STYLING, JUGGLING WORK AND HOME LIFE, PARENTING HACKS AND MORE.
____________
What is the date today? 
March 22, 2022.


Who is in your family? Where do you live?

In our family, it is myself and my husband and our two daughters. We live in an old miner's cottage in Coledale, south of Sydney.
What does a 'typical' day look like in your household?

My husband is off to work first thing, so breakfast is a solo mission. If it's a daycare day for my eldest, we scramble out the door to drop her off. My youngest isn't in care yet, so I spend the day looking after her and trying to get some time in the studio. In the evening, we do family hang time and the dinner/bath/bed marathon.

What is the most surprising part about becoming a mama to two? What do you hope to instil in your two gals?
I was surprised with how much grief I felt when the baby stage was over with my first. It made me realise how quickly the time goes with them, which has helped me be much more in the moment this time around, especially on those tough days.
I want to instil in them a strong sense of self, to be kind and to really just follow the things in life that light a fire in their belly.
How's the sleeping situation in your house?
Not a lot of sleep these days, with the baby waking up a bunch of times throughout the night. But we are in the trenches right now, so that's to be expected. I'm learning to put a lot less pressure on myself and slow down which is helping - and coffee, always coffee.
What was most important to you when you were setting up spaces for your family?

Our place is small, and we don't have a lot of storage, so functionality and avoiding clutter is important. We recently turned some underutilised space in our laundry into a teeny 2x2m nursery. I like to keep the colour palette earthy and soft to create a sense of calm amongst the chaos.

Do you have any tips for tying it all together? Do you follow a theme or design ethos when decorating?
Generally, I like to keep permanent fixtures neutral and use colour in pieces you can change out because I love to redecorate every so often and bring a bit of new energy to the space. If I'm trying to choose a colour scheme sometimes I'll take inspo from a favourite piece like a pillow or artwork. 

What are your favourite activities to do as a family right now?

It feels like we do a lot of tag team these days, adjusting to life with two, but if we are all together, we usually do a bike ride or beach hang. We just did a weekend in Sydney, which was fun just wandering around with lots to keep the kids occupied.

How do you make sure you thrive in life? 

I'm still figuring this one out, but I know I need to have a creative outlet otherwise my mood can get a bit low. Time by myself to process and recalibrate is really important too. I am mostly being supported by a good crew of people who you can laugh with and keep things light.

Upsy Daisy Quilted Coverlet
$389
Sunny Daze Floral Organic Cotton Blankie
$129
Honey Bunch Ringer Organic Cotton Onesie
$45
Rad Kid Standard Pillowcase
$45